Scientific equipment is back in operation.
         At the end of 2021, the analytical equipment of the State Scientific Institution "Institute for Single Crystals" of National Academy of Sciences of Ukraine was replenished with a SHIMADZU liquid chromatograph with LCMS-2020 mass spectrometry detector. This is a modern and powerful device for identification of organic compounds and analysis of various types of samples at very low concentration level. It is used to control the purity of synthesized organic compounds, in the analysis of medicines and environmental objects.
      The device was recently equipped with a new, more powerful uninterruptible power supply, which, in conditions of unstable power grid operation and significant voltage fluctuations, allows for reliable results and, in the event of a power outage, allows for proper equipment shutdown without the risk of chromatograph component failure.
       We are grateful to all the benefactors, especially to the Institute of Organic Chemistry from Prague and the Charitable Organization "Peaceful Sky of Kharkiv", who joined the "Help SSI ISC" campaign, which allowed our organization to receive uninterruptible power supplies. Now we are able to perform our work efficiently in this difficult time for all of us.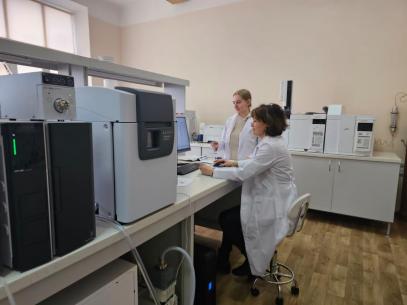 As previously reported, in October-December 2022, SSI "Institute for Single Crystals" together with the CO "Peaceful Sky of Kharkiv" conducted a campaign to raise charitable funds for the purchase of powerful uninterruptible power supplies (UPS) to prevent the failure of the unique scientific equipment.
       Due to the high demand for powerful UPS systems of 6-10 kW, they have become scarce. However, at the end of January and beginning of February, the first powerful sources were purchased and installed.