Help SSI ISC
Academician of NAS of Ukraine




Professor Volodymyr Semynozhenko

Coresponding member of NAS of Ukraine




Professor Valentyn Chebanov
  Dear all,
    Our city, Kharkiv (35 km from the border with Russia) has been under attack from Day 1 of the Russian invasion, suffering from incessant shelling by artillery, multiple rocket systems, missiles and air strikes that have caused massive damage to civil infrastructure, residential areas, schools, universities and research institutions.
   State Scientific Institution "Institute for Single Crystals" of the National Academy of Ukraine (SSI ISC) is one of the research institutions which have been hit hard as buildings were damaged, gas and water lines were destroyed and the electricity shortages have caused damage to the equipment and put our unique facility on the edge.

    Our Institution is one of the leading R&D centers in Ukraine in the field of material science, physics, chemistry and pharmacy. It comprises of three academic institutes and two state enterprises with a total staff of 800, including 275 research workers, 32 Professors and 135 PhDs.
    For over 60 years, we have been doing state-of-the-art research and participated in all major international projects and collaboration programs, including CERN (CMS, ALICE), BaBaR, OPERA, Belle and Belle II.
    Over the past 20 years, our major focus has been on purchasing and upgrading of our research and single crystal growth equipment, so we were the first in Ukraine to use the NMR spectrometry, X-ray diffraction, ICP-OES/MS and other mass spectrometry methods to advance the chemistry and material science research.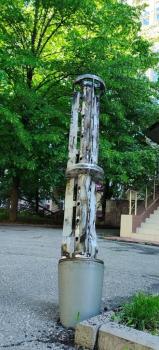 Recently, we have developed a number of products for Ukrainian agriculture companies to store and to protect plants, and we have also succeeded in the drug development and analysis. This has allowed us to become an authorized center for drugs quality control for the State Service of Ukraine on Medicines and Drugs Controls.
    Despite the shelling, we have been continuously improving the production of essential medicines to eliminate potential shortages amid the war.
    We also operate a shelter where about 300 people have been hiding from bombs and missiles, and it still serves as home to dozens of people whose houses and apartments have been destroyed.
    Successful advancement of the Ukrainian Armed Forces has significantly decreased the danger to our city but it is still vulnerable to missile strikes as their have caused several long-lasting power outages recently.
    Now we need to recover from the damage and restore our research activities but all Ukrainian institutions are cut off from international grant programs and the Ukrainian government has considerably cut the science funding programs, thus we can't allocate money to maintain the design and construction operations, as well as maintenance, replacement or upgrade of our equipment.
    Under these circumstances State Scientific Institution "Institute for Single Crystals" in cooperation with the Ukrainian Charity Fund "PEACEFUL HEAVEN OF KHARKIV" initiates the fundraising campaign "Help SSI ISC".
    On behalf of the scientists, PhD students and engineers, we reach out to all individuals, companies and organizations worldwide for donations to facilitate our mission in recovering from these heinous attacks.
    We would greatly appreciate your donations. They will help us renovate our shelter, making it safe and proper for working in the rigid winter conditions, continue our design and construction operation and cover the costs of research and technology equipment restoration.
    If you wish to contribute, make donations via various options below or if you have any queries, do not hesitate to turn to us for more details about how you can help support at help.ssi@isc.kh.ua.
Sincerely yours,
General Director
Academician of NAS of Ukraine
Professor

 

Volodymyr Semynozhenko

Director of Division of Functional




Materials Chemistry,




Coresponding member of NAS of Ukraine




Professor

Valentyn Chebanov
IF YOU WISH TO CONTRIBUTE, MAKE DONATIONS VIA:

Full and abbreviated name of legal entity: "CHARITABLE ORGANIZATION "CHARITABLE FOUNDATION" Peaceful Heaven of Kharkiv"
Location of the legal entity: 61091, Kharkiv region, Kharkiv, Tankopia Street 23, apartment 9.
EDRPOU code 44877407
Information on communication with a legal entity: Sergey Chubukov
Phone number +380674449393.
E-mail: sergey@forma.net.ua
Head of the CO CF "Peaceful Heaven of Kharkiv" - Stanislav Lyubimsky
For payments in USD or Euro:
Purpose of the payment (mandatory): Help SSI ISC
Name of the bank

JSC CB "PRIVATBANK", 1D HRUSHEVSKOHO STR., KYIV, 01001, UKRAINE

IBAN Code

IBAN UA723515330000026000035902404

Bank SWIFT Code

PBANUA2X

Company address

UA 61091, Kharkiv region, Kharkiv, Tankopia Street 23, apartment 9.

Correspondent bank

Account in the correspondent bank

400886700401

SWIFT Code of the correspondent bank

COBADEFF

Correspondent bank

Commerzbank AG, Frankfurt am Main, Germany

or

Account in the correspondent bank

6231605145

SWIFT Code of the correspondent bank

CHASDEFX

Correspondent bank

J.P.MORGAN AG, FRANKFURT AM MAIN, GERMANY
Paypal: chubukov@mn.org.ua
For Ukrainian residents only:

Для платежів в гривні:
АТ КБ "ПРИВАТБАНК"
ЄДЕРПОУ одержувача 44877407, код банку 351533
Отримувач платежу: БО Благодійний фонд Мирне небо Харкова
IBAN: UA903515330000026001015902586
Призначення платежу (обов'язково): Help SSI ISC